Bendigo Centre set to soak up the sun with new solar panels
27 January 2022
|
Announcements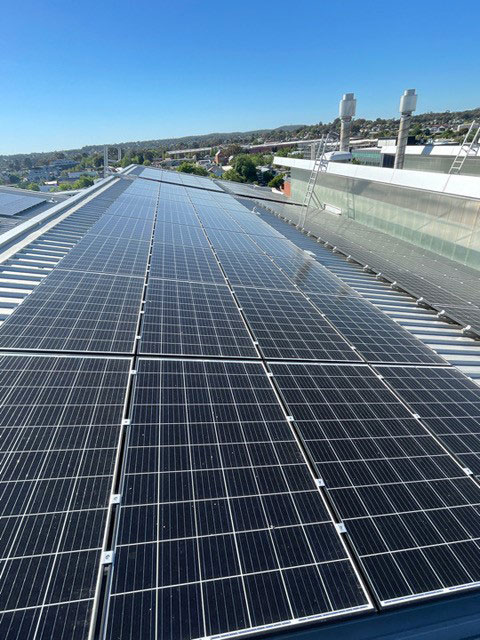 Solar Panels on Bendigo Centre Roof
In one of the largest installations in the City of Greater Bendigo, Bendigo Bank will harness even more energy from the sun, thanks to a 200kW solar panel installation this summer.
The panels, which are Australian made for Australia's harsh conditions by Tindo, occupy the entire roof space of the Bendigo Centre and will help the Bank to reduce its carbon footprint and energy consumption. These panels add to those installed when the Bendigo Centre was built in 2008 to power its hot water system.
This latest activity forms part of the Bank's stated commitment to purchase 100 percent renewable energy by 2025 and reduce absolute emissions by 50 percent by 2030. The Bank was also certified carbon neutral in 2021 for its operations from financial year 2019/20.

Bendigo and Adelaide Bank's Managing Director, Marnie Baker, said the installation is an important addition to the unique and long-standing green credentials of the iconic Bendigo landmark, the first 5 Star Green Star building in regional Australia.

"Our Bank's fundamental purpose is to help customers and communities to succeed by securing prosperous futures. In recent years the expectations of customers and investors have evolved to the point where they want to see how the Bank is contributing to a more sustainable future as well," Ms Baker said.

"Building the Bendigo Centre for efficiency, and subsequently making improvements by installing these solar panels, is an example of our long-term commitment to sustainability, reducing our carbon and environmental footprint, improving our resilience, and better understanding the dependencies we have on the natural environment," she said.

Other key green features of the Bendigo Centre include;
A water treatment plant that recycles 20,000 litres of waste water per day.
Use of recycled water to service all toilets throughout the building, saving almost 4.5 million litres of drinking water each year.
One of the first large-scale applications of under-floor displacement air conditioning in Australia. Using considerably less energy, this system provides fresh, clean air at a low pressure with individually controlled vents at work stations.
Solar panels to heat water, reducing the amount of black power used.
Automated lights that dim or turn off with natural light levels.
Tindo Solar Chief Executive Officer Shayne Jaenisch said the Bank had made a powerful commitment to renewable energy, while also supporting Australian jobs and innovation. "We're proud to support the Bank's ambitions for the environment by installing high quality, locally made solar panels on the Bendigo Centre, and backed by a 25 year warranty, the Bank will get the full financial return on their investment and the full benefit for the environment," Mr Jaenisch said.

In just six weeks, the solar panels have already produced about 50MWh and provided about 15 percent of the building's power, a great start considering the commercial building has significant energy needs 24 hours per day.

More than 30 Bendigo Bank branches across Australia use energy derived from solar power, with further solar panel installations on branches set to occur this year, following a recent pilot program.

Bendigo and Adelaide Bank's other major corporate sites have been designed and built with sustainability at the forefront. The Bank's Adelaide office building, which opened in 2013, achieved a 5 Star Green Star rating for construction, design and interior fit out, a Green Council of Australia 5 Star Green Star Office Interiors Certification and a 5 star NABERS rating. Find out more about the Bank's Climate Change commitment.