Bendigo Bank reimagines the 'branch of the future' in Carlton
10 December 2019
|
Innovation
Bendigo Bank reimagines the 'branch of the future' in Carlton
In a Victorian first, Bendigo Bank has today opened its reimagined 'branch of the future' at 282 Lygon Street, Carlton in Melbourne.
Situated in the heart of Carlton, the innovative new space has been designed and developed in partnership with the Public Design Group to flip the traditional concept of a bank branch and allow customers and communities better access to information, experts, technology, services and products – both from the Bank and other local businesses – in ways they value.
Bendigo Bank Carlton joins its sister branches at Norwood in South Australia and Leichhardt in New South Wales as the newest addition to the Bank's burgeoning 'branch of the future' collection. The success of the first pilot at Norwood (SA) saw a 64 percent increase in foot traffic and has seen significant uplift in business.
The new Carlton branch includes:
A free Retail Pop-Up Space - situated in a prime location on Lygon Street - which local businesses can use free of charge for two weeks at a time
An indoor community space, equipped with meeting technology, for locals to use in the evenings for community or business meetings, workshops or small events (available from January 2020)
A Gallery Wall which will be used to display works from local artists
A mezzanine floor equipped with free Wi-Fi which students, co-workers or businesses can access, free of charge
The new branch also features two indoor murals - one depicting the Carlton streetscape and the other a creative piece by Urban Enhancement - which add splashes of dramatic colour to the new space, and helps create a vibrant and dynamic ambiance across the two floors.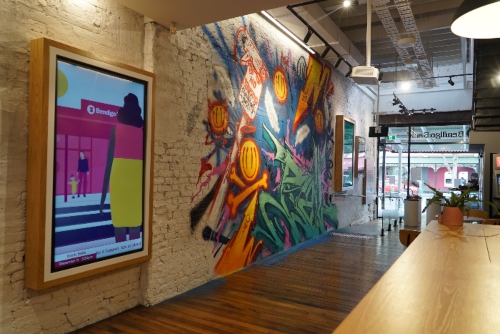 Richard Fennell, Executive, Consumer Banking, Bendigo Bank, said the newly refurbished Lygon Street branch will be much more than a bank branch and will help support the lifestyle goals of customers, the entrepreneurial objectives of local businesses, and support the aspirations of the surrounding creative communities in Melbourne's inner-north.
"We know, from our experience and research that a cookie cutter customer approach no longer works in today's 24/7, always on, global and digital-first environment. This also applies to physical or geographical communities. Each community has its own unique needs and preferences, which is why our branch of the future strategy is all about continuing to deliver hyper localised experiences tailored specifically to the needs of each individual community," said Mr Fennell.
Offering full banking services as part of Australia's fifth largest retail banking network, Bendigo Bank's new Carlton branch features relaxed, modern collaborative spaces for customers, communities and business owners to access technologies and information to help grow their business, and assistance to help them achieve financial success as individuals or as part of a thriving community group.
"Our customers want personalised solutions - accessible anytime and anywhere - and we are reshaping our business to continue to deliver what our customers demand whilst using new technologies to make us more efficient and to better suit our customers' evolving needs.
"The Bank, along with our community partners, are testing new concept stores to build a better experience for our customers and to ensure we continue to be recognised as the undisputed customer experience leader in Australian banking," Mr Fennell concluded.
Bendigo Bank shares revenue with hundreds of communities across Australia. In the last 21 years, the Community Bank network has returned more than $229 million in profits back to local communities to fund important local projects and initiatives.
Bendigo Bank Carlton, 282 Lygon Street is open for business from 9:30am - 5.00pm, Monday to Friday.