Bendigo Bank backs SA regions with $650,000 cash injection
20 October 2023
|
Announcements
In the single biggest investment Bendigo Bank's Community Enterprise Foundation has made in South Australia, over half a million dollars will be donated to South Australia's Kangaroo Island and Adelaide Hills to become more bushfire resilient as the country faces into the most significant bushfire season since Black Summer.
Bendigo and Rural Bank's National Bushfire Disaster Appeal, conducted by the Bank's charitable arm, the Community Enterprise Foundation, has today announced the list of fifteen successful applicants under the SA Bushfire Recovery Grants Program.
The SA Bushfire Recovery Grants Program has been developed specifically to help fund community recovery projects, with the aim of rebuilding and strengthening the social fabric of those communities affected by the devastating Black Summer bushfires of 2019/20.
The funding will go to a range of programs and initiatives, such as camera trap monitoring to benefit threatened species on Kangaroo Island, new fencing trailers, community hall upgrades, and innovative technology to save native wildlife.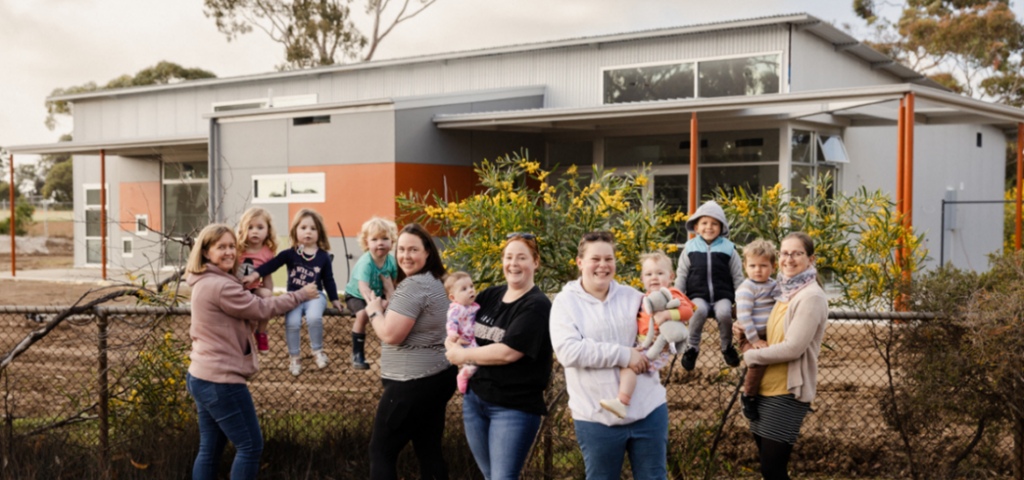 Parndana Community Children's Centre Families
Chief Customer Officer for Consumer Banking, Richard Fennell, who calls Adelaide home, says even though the Black Summer Bushfires were over three years ago, recovery and resilience is still important as ever – particularly as we're facing into a hot spring and summer.
"Recovery is a marathon, not a sprint and it's more important than ever we support these communities despite the Black Summer Fires happening over three years ago," Mr Fennell said.
"We know the recovery process for people is a very personal journey which involves key stages over time.
"The Community organisations who we have donated to through this program all play a critical role in rebuilding and strengthening the social fabric within communities which is critical in building a more resilient future.
"At Bendigo and Adelaide Bank, our purpose is to feed into the prosperity of our communities, not off them, and we know this funding will help Kangaroo Island and Adelaide Hills communities, particularly as the weather heats up across South Australia this summer," Mr Fennell concluded.
Heidi Groffen, Program Manager at Kangaroo Island Land for Wildlife Association said the grants will make a real difference to the long-term bushfire recovery goals of the environmental organisations successful in receiving funding.
"The KI Land for Wildlife Bushfire Recovery Through Community Engagement project will assist the long-term monitoring of species recovery and provide an opportunity to allow the community to get involved in the wildlife monitoring and conservation activities," Ms Groffen said.
"The project is assisting with the real need for the continuation to engage community, school groups and landholders in conservation outcomes post the bushfires while improving overall wellbeing and resilience for what might come our way in the future."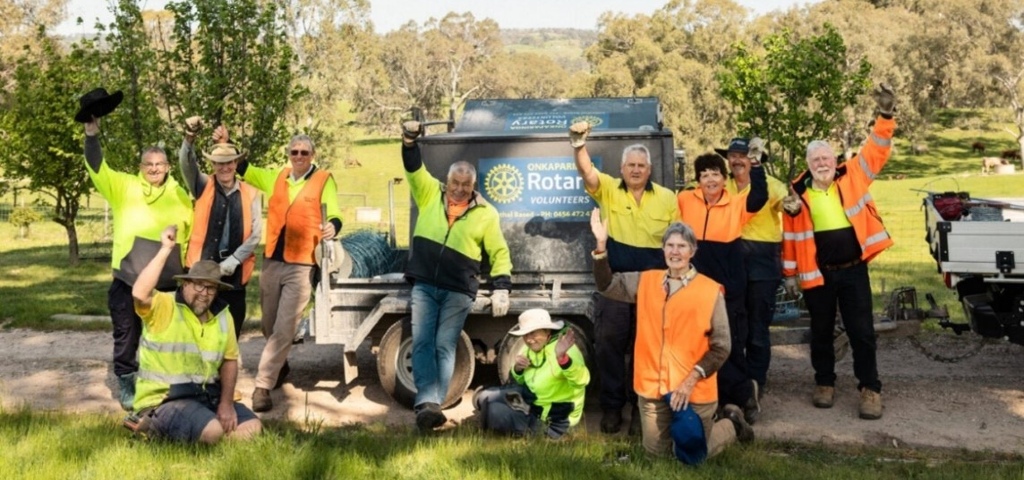 Rotary Club of Onkaparinga - fencing volunteers
CEO of Rural Business Support, Brett Smith said the grants will help many businesses and families continue to recover financially.
"The Bendigo Bank Bushfire Recovery grants will enable small and family businesses impacted by the Adelaide Hills and Kangaroo Island bushfires to continue to recover financially through one-to-one support and mentoring from a qualified business financial counsellor," Mr Smith said.
"Through our case managed framework, bushfire impacted small and family business owners will be empowered to enhance their financial knowledge and skills. This involves prioritising important decisions and learning to create plans that offer clarity amid financial uncertainty, building longer-term resilience as they recover.
"By recognising the ongoing need for support in bushfire communities, the Bendigo Bank Community Enterprise Foundation is raising awareness of the impact of long-term trauma following natural disasters, including the mental, emotional and financial challenges these business owners have and continue to face," Mr Smith concluded.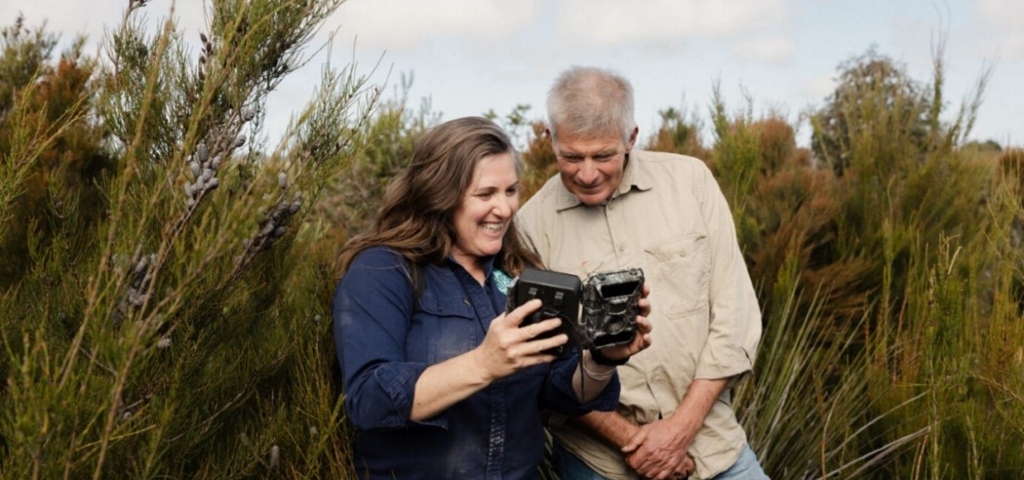 Heidi Groffen - KI Land for Wildlife and Landholder Michael
A list of the grant recipients, and what the funding will go towards is below.
For more information on Bendigo Bank's Community Enterprise Foundation, please visit: Community Enterprise Foundation. 
Grant recipients:
National Association for Sustainable Agriculture Australia (NASAA)
Sustainable Farming - From Knowledge to Action
This project will focus on educating land managers on how to take their knowledge and put it into action.
Through 3 workshops and one webinar, the land managers will develop action plans, with presenters experienced in the stages of long-term recovery of farming and land management after a fire.
Through education and advice from industry professionals, the training will provide the necessary technical skills for land managers by highlighting the need for their awareness of their property to create an understanding of fire dynamics.
$24,360.00
Kangaroo Island Land for Wildlife Association Incorporated
KI Land for Wildlife bushfire recovery through community engagement
This project will support KI landholders, community, and students by engaging them in KI Land for Wildlife's threatened species conservation activities across the fire scar of Western KI. KI bushland now supports 29 threatened species, eight of these have been up-listed Nationally since the Black Summer bushfires of 2019/2020.
This project will benefit all of KI's threatened species through camera trap monitoring which will guide strategic threat reduction activities for long term protection across 25,000ha.
Thirty-five survey sites will be monitored across 30 private conservation properties. Twelve demonstration field days will be held to engage landholders, students, and the wider KI community in conservation on ground action. This will improve community wellbeing, connection to their island home, while also increasing their knowledge and skill to take care of bushland habitats and the threatened species within for long term bushfire recovery outcomes.
$50,000.00
StandbyU
Foundation StandbyU Shield
The Funding will provide 40 StandbyU Shields to be deployed across Adelaide Hills and Kangaroo Island communities impacted by bushfire.
The Shields help families impacted by domestic abuse by creating vital connections, giving people safety and confidence to move forward with life.
$50,000.00
Rural Business Support Service Incorporated
Small Business Financial Counselling Adelaide Hills and Kangaroo Island
RBS's small business financial counselling (BFC) program significantly contributes to the Adelaide Hills and Kangaroo Island bushfire recovery through supporting: Economic Activity, Job Creation, Strengthening Community Resilience, Tourism Recovery and Financial Stability and Preparedness: These efforts contribute to the overall recovery and rebuilding process, enabling the Kangaroo Island and Adelaide Hills bushfire-affected regions to bounce back stronger and more resilient.
$131,839.00
Rotary Club of Onkaparinga
Onkaparinga Rotary New Fencing Trailers
The Rotary Club of Onkaparinga have been using two borrowed BlazeAid fencing trailers since Nov 2020, and are very grateful for this. These are aging, require ongoing care and maintenance, and will need to be returned.
This grant will enable them to purchase and partly equip two custom made trailers, similar in function, but with some extra features to ensure easier and safer conditions for our volunteers.
$49,936.00
Harrogate Soldiers Memorial Hall
Harrogate Hall - a window into recovery
Harrogate Soldiers Memorial Hall is the only meeting place for the residents in the township to come together as a whole. Harrogate's long-term recovery after being severely impacted (and flame affected) by the Black Summer Bushfires is directly reliant on the Hall as a community facility which is in desperate need of support. It provides a space for community connection, increased community resilience and the opportunity for the community themselves to drive their own recovery. In order to do this, the Hall requires window replacements to maintain comfort across the seasons (particularly for vulnerable populations such as young people and the elderly) and solar panels to support the increased use of the facility by the community to keep costs down and reduce financial barriers to ensure sustainability of the community asset. Having been built in the 1960s by the community themselves, the maintenance of the Hall is reflective of the resilience and growth of the community and celebration of the heritage and storytelling of the township itself. The whole community will benefit from this project including the various clubs/groups that operate from there such as the eight ball and table tennis club which has been thriving for 40 years. The loss of such groups in a small township such as Harrogate would directly impact the town socially and from an overall health and wellbeing perspective by increasing loneliness and would contribute to poor health outcomes across the whole community.
$39,780.00
Brukunga Community Association Inc.
Brukunga Community Hall Upgrade
The proposed project aims to upgrade the Brukunga Community Hall in the Adelaide Hills Bushfire-affected region. The hall will undergo improvements such as new appliances, AV equipment, and interior painting. The project focuses on promoting community engagement, supporting training and capacity building, fostering well-being and mental health, and stimulating local businesses and tourism. The upgraded hall will serve as a central hub for gatherings including emergencies and emergency management, workshops, and educational programs, fostering connection and social interaction among residents. It will support training initiatives, empower individuals with valuable skills, and create a healing environment for those affected by the bushfire. Secure financial transactions and outdoor event capabilities will benefit local businesses and attract visitors, while provisions for well-being and safety, including first aid equipment, will ensure the welfare of community members.
$31,033.00
Kangaroo Island Business and Brand Alliance
KI Community Directory
The Kangaroo Island Community Directory has been a much-loved community resource for decades. A revised version was produced around 12 months post the 2019-2020 Black Saturday Bushfires and is now more than two years old. This means much of the directory - like any phonebook - is out of date. This is especially the case considering many of those impacted directly by the bushfires have recently moved back into their rebuilt homes or have relocated to other properties. While not directly linked to the bushfires, the COVID pandemic has also seen an influx of new residents who are not currently acknowledged in the directory and therefore their contact details not available to the general population.
The directory also includes listings of community organisations, such as progress associations and sporting clubs, many of which have had changes in their executive positions and contact details listed in the directory since 2021. The Directory also includes listings for businesses so reprinting the Directory will ensure that these details are up-to-date and help encourage local patronage of them.
The project will update the hard-copy version of the KI Directory with 1500 copies to be printed. The project will also see the online directory updated. A networking event will be held to launch the updated directory, with members of the community and businesses invited further contributing to the objectives of connection, wellbeing, resilience, and capacity building.
The intention is to receive enough grant funding so the Directory can be offered to residents free of charge. Regardless, the Directory will be provided to local libraries and community centres free of charge.
$38,554.00
Human Projectile MTB Club Inc
Community Trail Hub Upgrades - Fox Creek Bike Park
Since the 2019 Cudlee Creek Bushfire, a dedicated team of community volunteer organisations have worked hand-in-hand with ForestrySA to recover and redevelop the community bike park trails. Since reopening in 2021, Fox Creek Bike Park has seen over 160,000 visitors of all ages cycling, running, hiking, and reflecting on the regrowth of the native vegetation in the area.
To further amplify the experience, this funding will go towards upgrading the community trail hub which will allow Fox Creek Bike Park to expand it's offering as a free, community-led destination – a place for people of all ages and abilities to exercise, reflect, celebrate, and relax.
$48,893.00
Stokes Bay Community Hall Inc.
Reconnecting the Stokes Bay community through exercise
The Stokes Bay area suffered severe loss from the black summer fires with many members losing homes and livelihoods. Members of the community have had to rebuild homes, their lives, and their much beloved hall. The hall is scheduled to be completed by Spring 2023. Once complete, the meeting room in the CFS shed will be vacant which is the perfect location to install some key pieces of gym equipment and to host exercise classes. It is important that the community not just have equipment installed but be skilled in how to use the equipment to maximize health outcomes and minimize injury.
$29,000.00
Australian Wildlife Conservancy
Protecting Kangaroo Island's Threatened Wildlife from Feral Cats through Innovative Technology
A remote cat-trap notification network (Celium) will be installed at WRR. Celium is a wireless data acquisition technology designed for large-scale pest control operations over large and remote areas. The technology allows conservation land managers to be alerted remotely when a cat (or native animal) is trapped. The technology bypasses manual checking of traps. Celium was trialled on neighbouring properties by Kangaroo Island Landscape Board (KILB) in 2022, with very positive results. KI LFW now plan to implement the technology across 80 of their member properties (please see attached Support Letter for details).
The network will integrate with the 40 cat traps currently established across WRR.
Once established, the resulting feral cat data will be shared with other Kangaroo Island land managers already using the same Celium system, facilitating a collaborative landscape-wide feral cat control strategy.
$27,467.00
BirdLife Australia
Community and nature - healing together after fire
This project will build on the significant conservation, education and community engagement that has been achieved by BirdLife Australia's Kangaroo Island (KI) Bushfire Recovery Project following the Black Summer fires. With a theme of 'healing together', it will contribute to improving understanding, connection and engagement with our unique wildlife and the diverse habitats they rely on. There will be benefits to both students, residents, community members and visitors. The opportunity to engage in nature provides benefits to mental health after trauma and is a pathway to mindfulness.
The project will undertake:
Work with local school students and partners to plan and create an art installation about KI's threatened species.
Donate the artwork to the Western Districts Community Memorial Sports Club (WDCMSC)
Plan and coordinate a whole of community nocturnal bird survey to understand the impact of the fires on these birds and their long-term recovery.
Provide the community with education material about bird-friendly rodent control and native birds of Kangaroo Island (see attachments)
Partner with KI Land for Wildlife to expand private land conservation in the fire-scar.
Support private landholders to install and undertake long-term bird surveys on their properties to contribute to post-fire knowledge and recovery of birds on KI.
Create a professional development training session for teachers for the delivery of Birdlife Australia's Education Program for schools 'Birds of our Island'.
Promote the health, well-being and healing benefits of KI's unique natural environment to the community.
$49,762.00
Parndana Community Children's Centre Inc
Resources, Furniture & Equipment for the Parndana Community Children's Centre
This project will enable the resourcing of the newly established Parndana Community Children's Centre. For the service to be operational it requires various items, from cots, tables, whitegoods to children's play equipment such as climbing equipment and bikes, which all need to meet legislative standards required for such a service. Once the service is adequately resourced, approval will be provided for the service to operate, and families will benefit from being able to access a Federal Government subsidy towards the fees for the care. This will make the service affordable and accessible for the community who desperately need it. We currently don't have adequate funding to fully resource the centre to operate the service once the building is complete.
These resources will also benefit the Educators who will provide an educational, play based learning environment, which meets the developmental needs of the individual children in the service. Although the initial benefactors are the children, families and Educators, the flow on effect is that the employers and community groups will benefit as childcare enables more people to be involved in employment and volunteering.
Long-term the outcomes of children accessing early childhood learning and numerous and of great benefit. This includes greater positive outcomes in wellbeing, health and education for children.
$50,000.00
Fleurieu Soapbox Association Incorporated (SA)
Fleurieu Future Leaders Program 2022 Program – Kangaroo Island participants
The Fleurieu Future Leaders Program is an intensive 6-month long Leadership program, designed to inspire participants to be better leaders within their community. Following the devasting bushfires and to assist with the communities recovery we are extending our program footprint to include Kangaroo Island and have made available 4 spaces for Kangaroo Island residents. To ensure full participation with no additional costs (travel/accommodation, etc) this funding will support participants to attend and complete the program without additional personal costs. The program is a personal development course which will incorporate leadership and management teachings, empower candidates to pursue their dreams, assist with confidence building, break down barriers to success, provide knowledge regarding the financial and legal implications of doing business, teach about the importance of team collaboration and develop a fantastic network of people. The program is delivered across 6 months, over 6 modules: Foundations, Leading Strategically, Leading Collaborative, Leading People, Leading Self, and Completions. Each module is held roughly 1 month apart.
$32,000
Total Grants funded: $652,624